Design-led UK label, Minh Mang is synonymous with Chinoiserie Bags and Interiors.Our bags have been spotted on the arms of models such as Elle McPherson, Yasmin Le Bon and Erin O'Connor. Celebrities as diverse as Kylie Minogue and Sir Bob Geldof have been to our girlie boudoir-like shop for silks and accessories for home, or just a sneak peek.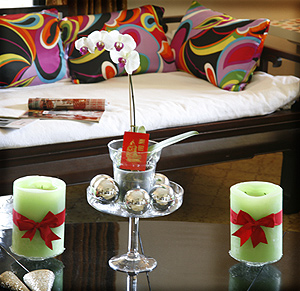 Historically Minh Mang, the famous cultured Emperor of Vietnam ruled from 1820 – 1841. The majestic Imperial Palace still stands in the Vietnamese city of Hue, as a testament of his great rule.We feel he personified some of the finest qualities of Vietnamese arts and craftsmanship, and therefore adopted his name for our own. The symbol you see on our label, and woven into many of our fabrics, represents longevity. We like to think this is a perfect combination. This label was set up almost 10 years ago, by designer Lilly Nguyen Warwick. It was at the time when ethnic chic was still not the buzzword of today.

Of Vietnamese and Singaporean parentage, Lilly was keen to show the world that Vietnam and Cambodia are know for more than just war. As such the ethos of this label is to provide a means of income for women folk and landmine victims, across Vietnam and Cambodia. To receive traditional skills and inject some life back into the cottage industry.

Lilly is now involved in Consultancy work for fashion, fashion accessories and interior design. Lilly's Interior Design, can be seen in the Algarve, Portugal and in London.And special commissions for Peter Marino Architects, New York., Nauticrew Yachtwear, Palma Mallorca. .